The property market is still up and running, and our services have never been in higher demand. And with the end of Stamp Duty Land Tax relief on the horizon and the pandemic willing people to up sticks to live in the country, it's no wonder.
Pricey city centre flats are no longer highly sought-after: it's fairytale farmhouses and countryside cottages that are in demand. But these types of property don't come cheap, so if you've got your eye on a new pad and are seeking a mortgage in the realms of £330k, read on.
Whether you're a first-time buyer, buy-to-let investor or seeking a commercial mortgage, we're at hand to provide you with the latest know-how and advice you need to snap up your dream property.

Will I be approved for a £330,000 mortgage?
Securing a mortgage is particularly difficult at the moment, with many providers limiting the proportion of loans that could be offered on high loan-to-value (LTV) rates off the back of recommendations from the Bank of England.
However, these recommendations are currently under review and a new set due for publication later this year. Whether lenders loosen mortgage criteria in 2021 remains to be seen, but there may be a light at the end of the tunnel for prospective borrowers.
You can get a rough estimation of how much you may be able to borrow by using a mortgage calculator. But for an accurate reflection of your £330k mortgage eligibility, you're best off speaking to a broker, who will take all your circumstances into consideration.

What factors impact my mortgage eligibility?
All mortgage providers have different requirements, and when they receive an application they will assess you against their lending criteria to determine whether you meet their requirements. At the very least, be prepared to answer questions surrounding the following:
Income.

Outgoings.

Deposit size.

Mortgage type.

Credit history.
Our brokers have extensive market knowledge and know what particular mortgage providers look for in a borrower - so if you decide to work with us, be sure to provide honest and accurate information for your best chance of approval.
How much do I have to earn to get a mortgage of £330k?
In order to determine how much they are willing to lend you, the majority of mortgage providers use income multiples as a starting point. Most impose a lending cap at between 4 - 4.5x borrowers' annual earnings.
For a £330,000 mortgage, this would mean that the applicant (or applicants, if you're applying for a joint mortgage) would need to earn a minimum of £82,500 - £73,334 respectively in order to be considered - assuming that additional requirements are met.
Why is affordability important?
As well as requesting evidence of your income, lenders will assess your earnings alongside your fixed outgoings, including:
Outstanding debts, such as loans, credit cards or car finance.

Household bills.

Other fixed outgoings such as travel or childcare costs.

Your personal spending habits.
Your affordability is then determined by calculating your debt-to-income (DTI) ratio, which provides a more accurate picture of your financial situation.
The lower your DTI the better, because it means you have fewer outgoings and therefore more disposable income available to repay your mortgage. It also means that you may be offered more competitive loans from a wider range of lenders.
Even if you've been declined a mortgage previously due to your affordability, it's important not to lose faith. There may still be options available - and our team is on hand to identify the most suitable lender for you.
How much deposit do I need for a £330k mortgage?
Deposit requirements have shot up in 2020/21 due to economic uncertainty, and it's becoming increasingly difficult to find 5% deposit options, especially ones that offer competitive rates.
In the current market, the majority of providers ask for approximately 15-20% of the property's value for a residential mortgage. So if you've got your eye on a house worth £330,000, you would typically need to save a deposit of approximately £49,500 - £66,000.
Some mortgage products are considered riskier investments, and as such, lenders request a higher deposit as security. Buy-to-let mortgages and commercial loans, for example, rely on rental income to cover the repayments, and are therefore higher risk than residential mortgages where the homeowners make direct repayments.
Typical deposit requirements for these products tend to be between 25% - 40% of the property's value: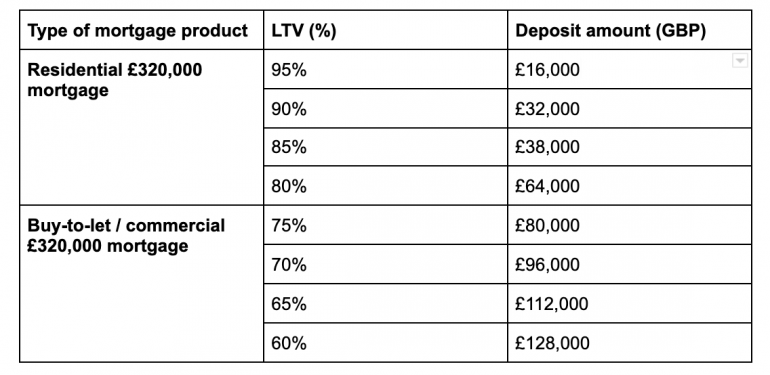 Putting down a larger deposit will usually always work in your favour because it tends to instil greater trust in lenders. So, as well as owning more equity in your home, a more sizeable down-payment may open you up to a greater range of lenders and better rates.
Can I get a mortgage of £330,000 if I have bad credit history?
Credit issues, even minor instances such as the odd late loan payment, can affect your choice of mortgage providers because many UK lenders aren't prepared to loan large sums to borrowers with a poor track record of money management.
The severity of the instance can have a big impact on providers' willingness to lend; while some will be more lenient for minor issues, especially if they occurred some time ago, more serious matters such as bankruptcies, CCJs and IVAs can be very detrimental.
Thankfully, there are lenders available that are willing to take your other circumstances into consideration before coming to a decision. There are even providers out there specialising in mortgages for people with bad credit - it's knowing where to find them.
This is where the help of a mortgage broker can be invaluable; with access to over 100 UK banks and specialist lenders, our team of advisors know exactly where to find those most likely to accept you as a borrower, and under what circumstances.
What other factors affect my mortgage eligibility?
There are a number of slightly more niche factors that most lenders will take into consideration before deciding whether to offer your a mortgage, and on what terms:
Job type - due to the added risk, some lenders are wary of lending to the self-employed, and / or may have stricter affordability and / or deposit requirements. However, there are specialist self-employed mortgage providers out there.

How long you've been in your job role - if you've been working for the same company for a number of years may be considered lower risk than someone who is constantly changing jobs.

Age - many lenders limit the amount you can borrow or offer shorter mortgage term lengths to those aged 55+ and/or approaching retirement, as they are typically deemed as higher-risk borrowers.

The type of property you want to buy - some lenders are unwilling to invest if you're looking to buy a 'non-standard construction' property (i.e. those not brick-walled and tile-roofed).
Get in touch for bespoke advice
Even if you've done your research and have a lender in mind for your £330k mortgage, it's worth speaking to a broker. Who knows, we may even be able to recommend a more suitable lender with more favourable terms.
We can also assist you with your mortgage application and check your eligibility on your behalf - potentially saving you rejection and a negative impact on your credit file. Call us today on 02380 980304 or request a call-back.