As it stands the property market remains open, and while lockdown has the majority of us stuck indoors, some of us are seizing the opportunity to relocate.
If you're looking to buy a property and estimate you'll need a mortgage of around £340,000, you've come to the right place. At a time where lending criteria is particularly stringent, your best bet to securing your dream home is with the advice of a broker.
This guide will tell you all you need to know mortgage eligibility requirements in 2021. Keen to get the ball rolling? Give us a call on 02380 980304 to speak to one of our friendly advisors.
How do lenders determine eligibility for a £340k mortgage?
Every mortgage provider has their own criteria for lending money. This means that, although most lenders will ask questions surrounding the same factors, how much weight each carries will depend on the lender. In short: some may accept you, others may not.
Some people rely on mortgage calculators to determine their eligibility. While these can be a useful starting point, they only take into consideration a limited number of variables so the results aren't always accurate. All of the following will play a role:
How much you want to borrow.

Your income & expenditure.

Employment status & job type.

Deposit size.

Your credit rating.

The type of property you want to buy.
Before you apply for any mortgage, it's important that you have information (and proof where applicable) at hand regarding all these factors. This also applies if you decide to work with a broker, so they can match you up with those most likely to approve your application.
Don't worry if you're unsure about any of the above - that's what we're here for. If you have any questions or require assistance filling out a mortgage application, we're more than happy to lend a hand.

Is my affordability sufficient for a £340,000 mortgage?
As a starting point, the majority of mortgage providers will cap how much they're willing to lend you at 4 - 4.5x your annual salary (or annual income for self-employed borrowers).
Using these lender caps, this would mean that you would need to earn between £85,000 - £75,560 a year to be eligible for a £340k home loan. If you're taking out a joint mortgage, lenders will look at the combined finances of everyone involved.
But earnings alone are not enough to prove your affordability. To determine whether you will truly be able to keep up with your monthly repayments, mortgage providers will want to know about your fixed monthly expenditures. This includes things like:
Loans, credit cards & car finance.

Insurance policies.

Household bills.

Child maintenance & childcare.

Travel costs.

Spending habits (e.g. socialising, eating out & buying clothes).
Many lenders will stress Test how likely you are to be able to pay if your circumstances change – for example, how the additional cost of a mortgage may affect your affordability, or what happens if interest rates increase.
How do I provide proof of income?
If you're a full- or part-time employee most lenders will want to see your most recent P60 and up to six months' worth of payslips. If applicable, some may request additional information about any child maintenance and government benefits you receive.
If you're self-employed, expect checks to be more scrupulous. Ensure to prepare your tax records and SA302 certificates for the last 2 - 3 years ahead of applying, as lenders will want to assess the stability of your income.
While it can be more difficult to get a mortgage if you work for yourself, it's not impossible. But it is advisable to seek expert advice; our team has access to over 100 UK banks and niche lenders, and can point you in the direction of specialist self-employed mortgage providers.
How much deposit will I need for a mortgage of £340k?
Finding 5% and 10% deposit mortgages can be difficult in the current market - but that doesn't mean it's impossible. However, if you can afford to pay a higher deposit the more equity in the property you'll own, meaning less interest to repay in the long run.
The standard deposit requirements for a £340k residential mortgage is around 20 - 30% - (£46,800 - £70,200), although this will vary by lender and your other circumstances. If you're looking for a buy-to-let (BTL) or commercial mortgage, deposit requirements are even higher - usually between 25 - 40%.
The table below illustrates the relationship between deposit size and mortgage amount for a property with a market value of £340,000 for the most common mortgage products: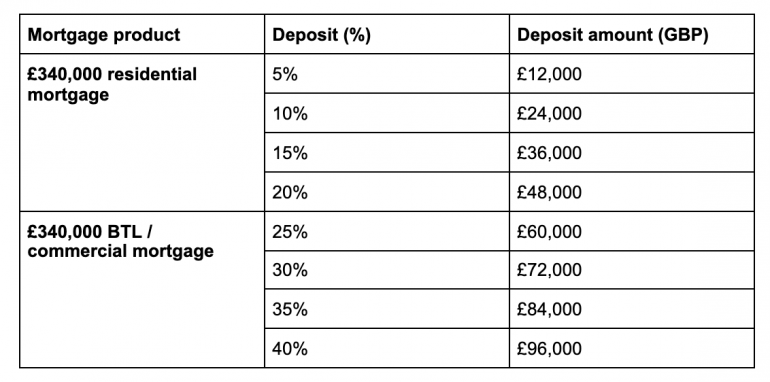 Can I get approved for a £340,000 mortgage if I have bad credit history?
If you've been rejected for a mortgage in the past due to credit issues, don't lose faith. As we've established, every lender is different, so just because you've been declined one, doesn't mean another won't consider you. What's more, there are specialist bad credit mortgage providers out there.
Many lenders base their decision on how long ago the instance occurred and / or the severity of it. If you've been issued with a CCJ or IVA for example (especially if this occurred recently) assistance from a broker could make all the difference.
It's important to bear in mind that a rejected application may further negatively impact your credit score, which you'll want to avoid at all costs. Get in touch and our experts will point you in the direction of suitable lenders, or give you tips on boosting your credit score.
How does property type impact my mortgage eligibility?
Many people are unaware that the type of property you want to buy can have an impact on whether your mortgage application is approved, but it can be the make or break for a lot of lenders.
For example, whether you're looking to buy a house or a flat, where the property is located, if it's a new build or listed building, and the state of repair it's in are all influencing factors. Often though, it's a case of what materials were used to construct the building.
A 'standard construction' type is one that has been built with concrete foundations, brick walls and pitched, tiled roofing. The majority of UK buildings are of standard construction type, but if you're looking to purchase one that doesn't it can be trickier - but not impossible.
If you're not sure whether the property you've set your sights on fall under the 'non-standard' category, don't hesitate to get in touch. We'll discuss your options with you and refer you to those most likely to consider your application.

How to find the best £340,000 mortgage deal
Finding a lender to approve a £340k mortgage can be a daunting prospect, especially if you've not applied for one before or your personal circumstances are less than ideal.
At The Mortgage Hut, we pride ourselves in taking the stress away from prospective home buyers. Not only can we save you time and money, but we'll also only ever recommend lenders with the most favourable mortgage deals for your situation.
Call us on 023 8098 0304, or fill out our online contact form and one of our friendly advisors will be in touch.