Hoping to buy a house one day? Unless you're a cash buyer, you'll likely need a mortgage so it can be a good idea to get to grips with residential mortgages, given that this type of home financing is the most commonly used in the UK.
Our guide on residential mortgages has been broken down into digestible chunks with less jargon to shorten your search and give you the information you need quickly.
Feel free to ask us a question via our chat if there's anything else you'd like to know.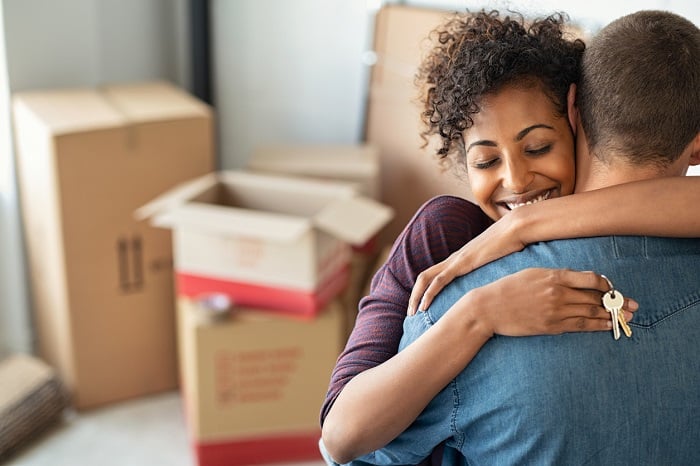 What is a residential mortgage?

A residential mortgage is a financial agreement between a borrower and a lender. The lender agrees to loan the borrower an agreed amount of money so that they can purchase a residential property to live in i.e. a house.
The borrower agrees to repay the loan over a set period of time, which is usually 25 years although the term of a residential mortgage can be increased or decreased with some lenders, if they feel you meet their eligibility requirements.
How much deposit will I need for a traditional mortgage?
If you want to purchase a property with a residential mortgage, you will need a deposit which will be a percentage of the market value of the property you want to buy.
A large proportion of residential lenders will offer loan-to-value (LTV) rates of 90%, meaning that as a borrower, you would need a 10% deposit.
However, if a lender is satisfied that you meet their affordability criteria, they may be prepared to loan you up to 95% of the property value, so a 5% deposit may be acceptable in the right circumstances.
Traditional mortgage example
If you wanted to buy a flat worth £100,000 and you had a lender prepared to offer you a LTV rate of 90%, you would need a 10% deposit of £10,000.
In this example, a smaller 5% deposit of £5,000 could be acceptable with some lenders, though keep in mind that the size of your deposit can affect your interest rate and often the larger the deposit, the better the rate.
To get a better understanding of the size of your deposit for a residential loan, ask an advisor. They can take the time to look at the factors that lenders focus on when approving applications and can advise you about the level of deposit you may need for a given mortgage product.
How much can I borrow on a residential home loan?
The amount you can borrow will usually be determined on the level of risk you present to the lender. Larger loans are usually approved in instances where the lender feels confident that the likelihood of the borrower defaulting on their loan is low.
When the borrower has bad credit, part-time income or an unpredictable income, lenders can question their ability to comfortably repay their loan.
Our guide on residential mortgage borrowing can be helpful if you're concerned about your ability to borrow.
Residential mortgage FAQS
Can I get a residential mortgage with a partner or friend?
Yes it may be possible to apply for a residential mortgage with another person, whether that be a spouse, parent, sibling or friend.
These types of mortgages are known as joint residential mortgages and depending on your circumstances, you may be able to apply for a larger mortgage if both applicant's incomes are taken into consideration.
Can you let a property out on a residential mortgage?
If you plan to rent your property out and you aren't a cash buyer who owns the property outright, you will need a buy-to-let mortgage which differs to a residential mortgage.
Most residential mortgage contracts will state that the property cannot be let without obtaining the lender's permission before hand, known as "consent to lease" or "consent to let".
To many people's surprise, the majority of residential mortgages would also restrict letting out on a short term basis via platforms such as Airbnb.
You can read more about this in our guide.
What are the interest rates like for a residential mortgage currently?
The interest rate for a residential mortgage can vary depending on the lender and their appetite to lend to someone with your circumstances. Essentially, what this means is that each lender may charge you a different interest rate based on factors such as your:
Income

Affordability

Deposit size

Age

Property type
How can you find the best interest rate for a residential mortgage?
Check your eligibility for a mortgage ahead of applying with a broker who has overseen residential home loans before

Look up your credit report and tell your broker about any debt or unresolved credit you have or have had in the past 6 years. (Ask us how to get a free report here)

Have your broker compare thousands of residential interest rates across the UK to source you the most affordable and suitable deal
Be as accurate as possible!
The process your broker will undertake to find you the best interest rate is reliant on accurate information so it's crucial that any documents you provide such as your passport, bank statements or tax accounts are current and updated.
This helps your mortgage broker find relevant mortgage products that you may be more likely to get approved for.
Taking the next steps
A residential mortgage is a big decision that could affect your finances and budget over the next 25 years, so always seek the guidance of a mortgage broker who can find you the most affordable option.
Our team is on hand to answer your questions and quash any concerns so call 02380 980304 or send us a quick message.