Help to Buy (also known as Help to Buy Equity Loan) was launched by the Government in April 2013 and is current set to run until 2021.
The idea of Help to Buy is it's a scheme which is designed to help hard working people get a foot on the property ladder, by lending the borrower up to 20% (40% for London) of the cost of a newly built property, the borrower then put 5% of their own deposit in and borrows the further 75% (55% for London) in the form of a mortgage, see the illustration below: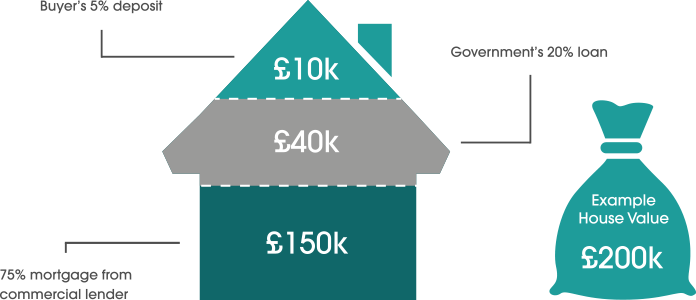 The loan is totally interest free for the first five years, after this you can either repay it, generally by refinancing with a new mortgage, or pay nominal interest to the government for the loan.
There are some rules around the scheme which are worth knowing:
You must not own another property at the time when you move into the new property (selling and upsizing is fine)
The property MUST be a new build property
Outside of London the property can not be more than £600,000 in value.
Help to Buy has been an extremely successful scheme, since the launch it's helped the purchase of 169,102 properties (to 31st March 2018) in England, 81% of these buyers were first time buyers.
Interestingly the mean purchase price of properties bought with Help to Buy is £249,708
The benefit of Help to Buy scheme is that when you take your mortgage the lender prices it generally as if you have a 25% deposit, so the rates are much cheaper than if you came with just a 5% deposit yourself.
Our specialist new build team will be able to answer any questions you may have about Help to Buy, click here to arrange a telephone call or an appointment.
This great case study by Help to Buy shows the benefit of the scheme,
click here to read it.
There is also this handy
Help to Buy Buyers Guide
from Help to Buy.