Nationwide have created a £1 billion fund to help those who don't think they can borrow enough to buy their first home.
In April 2021, the building society released their 'Helping Hand' mortgage product, which allows first-time buyers to borrow 5.5 x their annual salary.
Most mortgage providers tend to restrict lending to 4.5 x an applicant's income, so this borrowing boost could allow first-time buyers to purchase a property more apt for a home to stay put in.
After all, who wants the hassle of moving and remortgaging later down the line? Nationwide's 5-10 year fixed mortgages with lower income thresholds and a relaxed stress Test could provide an accessible route to homeownership for first-time purchasers and those who haven't bought property within 3 years.
It's been a good year for first-time buyers

2021 had already brought promising news to hopeful house hunters with the recent launch of the Government's mortgage guarantee scheme which allows first-time buyers to borrow up to 95% of a properties' value.
UK lenders including Accord have also launched their own stand alone products which aren't linked to the government scheme, providing a wider pool of 95% mortgages with 5% deposit requirements.
While 5% mortgage deposit schemes can and have helped many first-time buyers hop onto the property ladder, some working professionals on lower salaries can struggle to meet affordability requirements due to maximum loan-to-income (LTI) ratios.
How does a Nationwide first-time buyer mortgage work?
The new Nationwide Helping Hand mortgage has a lower income threshold, meaning that first-time buyers on lower incomes can meet eligibility criteria easier, while also being able to borrow 5.5 x their annual income, as opposed to the industry standard of 4.5 x, helping them meet today's higher purchase prices for property.
Income multiples of 5.5 are usually reserved for individuals earning an annual salary upwards of £60,000 a year but the increased inclusivity for lower income individuals as well as the newly applied lower stress rate, arguably helps borrowers meet affordability requirements more easily.
Can self-employed people apply for the Nationwide Helping Hand mortgage?
The mortgage criteria for the new Nationwide first-time buyer product is not open for self-employed applicants, even when applying with an employed person for a joint mortgage.
That being said, employed borrowers can borrow up to 90% of a properties' value and although this means saving a larger deposit of 10% as opposed to mortgages under the government backed 5% mortgage deposit scheme, applicants have the opportunity to borrow a larger loan under a fixed-rated for up to 10 years.
How much can you borrow with a Nationwide Helping Hand mortgage?
Buyers will now be able to borrow up to 5.5 x their income when they take a five- or 10-year fixed rate mortgage with Nationwide.
According to 2020 ONS data, the average salary before tax deductions is £29,900 in the UK and as demonstrated in the below table, a 4.5 x income multiple, which is applied typically with other UK lenders, may not give first-time buyers enough to meet the ever increasing property prices.
An income multiple of 5.5 x an annual gross salary can however, allow that same individual(s) to buy a modest first home.
4.5 x income mortgage vs 5.5 x income mortgage with Nationwide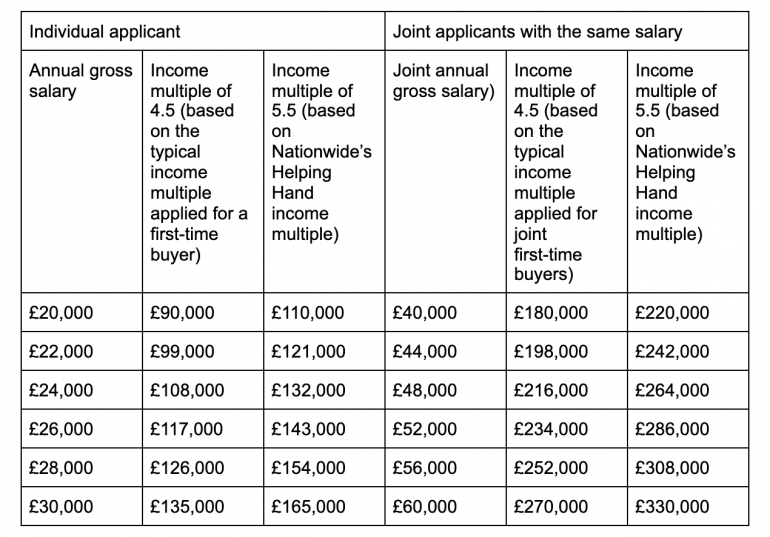 Understanding how much you can borrow as a first-time buyer
The amount a person(s) can borrow with any lender depends on a variety of other factors too including age, the amount of debt a person has in relation to their income and even the type of property they're planning to buy.
It's a complex calculation with so many factors to include, so for advice based on your specific situation, contact a mortgage broker.
What is the Helping Hand eligibility criteria?
To be eligible for a Helping Hand mortgage with Nationwide you need to:
Be a first time buyer. To Nationwide, this means you will not have had a mortgage in the last 3 years.

If applying jointly, both applicants need to be first time buyers.

Have at least 10% deposit.

Take out a 5 or 10 year fixed rate mortgage.

You will not be eligible for a Helping Hand if you, or anyone you're applying with, are: self-employed or using an affordable home ownership scheme such as Help to Buy, shared ownership, Right to Buy or Forces Help to Buy.
The Nationwide Helping Hand mortgage offers cashback too
Eligible and successful applicants that complete a mortgage with Nationwide through the Helping Hand mortgage can receive £500 cashback too and there's more good news.
First-time buyers taking out a 5.5 x salary mortgage with the building society also have the ability to overpay up to 10% of the loan amount each year without incurring an Early Repayment Charge (ERC).
Check your eligibility for a Nationwide Helping Hand mortgage
Applying for a mortgage that you don't know for certain is suitable for you and therefore, if you'll get approved, is a risk because if you get rejected, this will likely appear on your credit history for other lenders to see.
Avoid a credit rejection and check your eligibility for a Nationwide Helping Hand mortgage with a broker for free.
We can help you access your credit files and understand how lenders will determine whether they can lend to you or not. If a Nationwide 90% LTV mortgage isn't quite the right fit, we'll always let you know and work hard to find a better route of finance for you.
*Your home may be repossessed if you do not keep up repayments on your mortgage.