Trustpilot ranks checkmyfile as the UK's top credit report service so it's no wonder we receive so many questions about how to use their service to improve a credit score with the aim of applying for a mortgage.



You can access a free 30 day trial (then £14.99 per month - which can be cancelled at anytime) with checkmyfile if you're eager to check your credit score or alternatively, read on for a breakdown of what Checkmyfile is and how it might be able to help you improve your credit score to get a mortgage.

It's also important to note the trial or subscription can be cancelled at anytime.
What is Checkmyfile?
Checkmyfile provides a complete overview for those that sign up as they include data from all four of the major CRAs listed below, taking away the task of creating multiple logins. Who can remember four passwords anyway?
A clear overview can make it quicker to identify what's wrong and what's right on your reports, as well as provide a view of up to six years of history of payment performance.
They'll even provide a 30 day free trial (which can be cancelled at any time as well as the subscription), giving new users enough time to compare their credit history across the four major CRAs, take note of how to repair or improve their score and contest any errors that could be preventing them from taking out credit.
The big four: Credit Reference Agencies
One of the frustrating steps when accessing your credit reports is checking how your score varies amongst the main credit reference agencies (CRAs).
Each CRA uses a different scale to measure a person's credit worthiness, for example, Experian's credit score range is 0-999, while TransUnion's credit score range is between 0-710.
Mortgage lenders and other finance lenders too, each have their own preference of CRA and use their preferred report provider to assess a person's affordability for a loan or line of credit.
There are four well known credit reference agencies in the UK including:
Experian

Equifax

TransUnion

Crediva
What does CheckMyFile do?
Checkmyfile gives an up-to-date and detailed report on your credit history and the financial events that have affected your credit score.
A credit score is only a piece of the puzzle and mortgage lenders and lenders in general, will also look at your credit history to learn more about your money management skills.
Checkmyfile lists the information that UK lenders can see about you when assessing an application for finance, whether that be for a mortgage, a credit card, a Klarna account or car finance.
Knowing what lenders can see can also have an impact on how you manage your credit in the future, as you'll be aware of the factors that can influence their decision.
What information can I see on Checkmyfile?
All the lines of credit you have taken out to date including payday loans, phone contracts, a mortgage or secured loan and even your gas bill.

Unpaid or late payments will appear on your checkmyfile report too and these can suggest to future lenders that you might not be committed to your current financial agreements.

If you have failed to keep up repayments then credit accounts may show as defaulted or delinquent.

County Court Judgements, insolvencies and bankruptcies will be listed.

Any ex-partners or housemates that have bad credit may have linked accounts to your name which can pull your credit score down if the repayment history is less than perfect. This information can be accessed on checkmyfile and then contested with the relevant credit or utility provider.

Checkmyfile can also be used to see if any of the CRAs have flagged your name for identity fraud, in the event that your identity has been wrongfully used by someone else.

If you've registered on the electoral roll, it will appear on your credit report and can often help to build a credit score by providing information to lenders about how long you've lived in your current residence.

Up to 6 years' history of your repayment performance can be accessed.
Is Checkmyfile any good?
Checkmyfile provides the UK's most detailed credit report from four credit reference agencies (CRAs) and can help you access a comprehensive collection of your credit history.
Being able to see a clear overview of information can help you identify redflags on your report quickly, rather than having to check various CRAs.
It's fast, free for 30 days (then £14.99 per month and can be cancelled at anytime) if you sign up to a trial and has been reviewed on Trustpilot by thousands of real people.
What is a good credit score on Checkmyfile?
There isn't a universally considered 'good' credit score but checkmyfile provides a score from 0 - 1000. The higher the score, the better, though having a 'good' score doesn't necessarily mean that you'll automatically gain approval for a loan or mortgage.
A lender will look at a credit score to gain an insight into how likely the applicant is to fall into arrears but it's important to remember that other factors like the borrower's income, level of debt and even the frequency of their recent loan applications, can all affect approval.
Checkmyfile estimates that the chances of entering arrears on a credit agreement can be evaluated as shown in the table below. However, keep in mind that every person's situation will result in a different outcome and a credit score is just one of the many factors that influence a successful mortgage approval.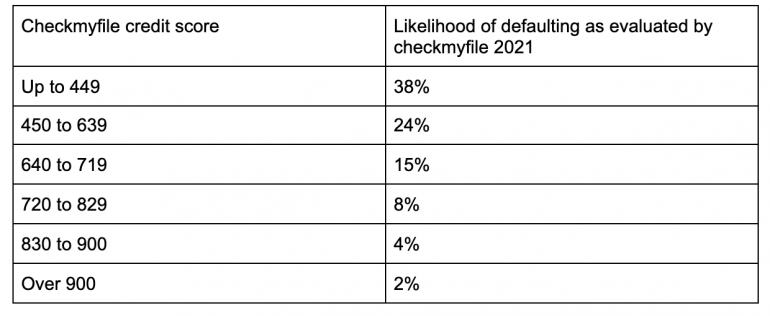 What credit score is needed for a mortgage?
A higher score can suggest to lenders that you present a lower risk for defaulting on your mortgage but that doesn't mean that it's impossible to get a mortgage with a low or poor credit score.
There are lots of different lenders across the UK, each referring to their own rules and criteria to decide whether they can accept you as a borrower or not. Some may accept an applicant with a credit score lower than 450, whereas others will not.
Before ever applying for a mortgage, always check the lender's criteria and whether your circumstances, including your credit history and score, allow you to meet it.
Looking at your credit report can help you prepare for a mortgage application because you can track your credit score and identify any issues that you can improve on. It may be the case that with the help of a mortgage broker, you find a suitable lender willing to accept you based on your current score and financial situation.
Does Checkmyfile affect my credit score?
No, checking your credit history on checkmyfile does not damage or negatively affect your credit score. Checking your credit score and accessing your online or downloadable report can help you see what lenders see.
Over time and with advice, you may be able to build your credit score by using the information provided by checkmyfile.
Is Checkmyfile the same as Experian?
Experian is just one credit reference agency, whilst checkmyfile pulls information from four major CRAs and provides a multi agency credit report.
This matters because your financial data differs across credit reference agencies (CRAs).
For example, on Experian your report may show a missed payment for an old phone bill whilst on your TransUnion report, this might not appear.
How does Check My File compare to other credit reference agencies?
Frustratingly, mortgage lenders each use a different CRA to check credit history, so it can be helpful to check and if relevant, improve your credit score and history on each.
Checkmyfile utilises information by Experian, Equifax, Crediva and TransUnion, to compare your credit score and financial information across the major credit reference agencies in the UK.
Is Check My File worth paying for?
That's up to you, although having access to a multi agency credit report could arguably be of value to someone considering applying for a mortgage or loan.
Lots of people are unaware of what lenders can see when they run a check on credit history but finding out can be the first step to resolving any issues and improving your score.
How much does Checkmyfile cost?
New users can access a free checkmyfile report for 30 days and if they choose not to cancel, thereafter, it's £14.99 a month.
How often is Checkmyfile updated?
Some people dispute negative items with credit bureaus and contest errors on their credit report in order to improve their credit score, and, understandably, want to know how quickly their report will update.
Banks and lenders typically share their information with credit reference agencies every month but sometimes new information updates quicker or slower, depending on the source of the information and that organisation's ability to pass it on.
1-2 months is usually, though not always, enough time for a checkmyfile report to update if a person's financial data and information has changed, so, if you're planning on applying for a loan or mortgage, give yourself enough time to allow for any changes to appear.
How do I use Checkmyfile?
Register
You can access a free credit report with checkmyfile when registering as a new customer.
You'll be prompted to securely enter some personal information like your name, previous and current addresses and your card details too.
Don't worry - this is so the credit reference agencies can access your credit data linked to your bank in order to build an accurate report.
Download the report
You might find it easier to access your report on a desktop but your full report can be accessed on a mobile device too. Search for your FULL report and select the 'Printable Version' before you press download.
Depending on your browser and whether or not you've recently cleared your cache and cookies, this may take a couple of minutes, so flick the kettle on if you're feeling impatient.
Take a breather
Know that whatever is listed on your report, you can take steps to build your score and with the help of an expert, you may be able to find a lender with affordable terms that work for your circumstances.
Your credit history is just one factor that affects a lender's decision to approve you for credit and there are even niche bad credit lenders who may be happy to provide a mortgage or credit to you, depending on your situation.
Open your report
That's the scary bit over, now, have a read and take note of anything that doesn't look correct or accurate. You should be able to see any accounts in your name for banks, utility bills, home loans or buy-now-pay-later schemes.
Contact a mortgage broker about your Checkmyfile report
Having a mortgage broker help you to build your credit score can be a quick way to identify what to change in order to position yourself as a sensible borrower who is likely to repay their loans on time and in full.
A mortgage broker has knowledge about mortgage criteria that can be used to repair a credit report with time and careful money management from you.
Even small changes like signing up to the electoral roll or not making multiple credit applications within a short space of time, can help to build a picture of creditworthiness and a good payment performance.
How do you cancel your report with Checkmyfile?
30 day free trial over? You can cancel your report at any time with checkmyfile here.
You can also cancel your account by phoning Checkmyfile during office hours on 0800 086 9360 or by logging in to your Credit Report, clicking on 'Expert Help' and then 'I need help with my account'.
Finally, select, 'I'd like to stop my subscription'.
The Mortgage Hut: Providing advice for mortgage borrowers with bad or low credit
Whether your score is flawless on all four CRA's or you're on the road to repairing it and applying for a mortgage in the future, we'd love to hear about your plans and provide tailored advice, as and when you need it.
Use our secure online chat or call us at our new and improved offices in Southampton.
A mortgage is a huge financial commitment and your home may be repossessed if you do not keep up repayments on your mortgage or another debt secured on it.