There's no official 'CIS mortgage product', merely the Construction Industry Scheme allows those eligible sole traders to present their income in a more accurate way for mortgage lenders. Over time, this has led to the term 'CIS mortgage', meaning a mortgage offered to someone signed up to the CIS.

One of the problems that sole traders and other self-employed individuals find when applying for a mortgage is that their declared income is considerably lower than their overall turnover. This is because offsetting expenses against tax in order to minimise income tax also has the effect of presenting a lower income to a mortgage provider.
Thankfully, for those in the construction industry, the Construction Industry Scheme (CIS) provides a way for subcontractors working to present their earnings as a pre-tax gross income, rather than a final post-tax profit.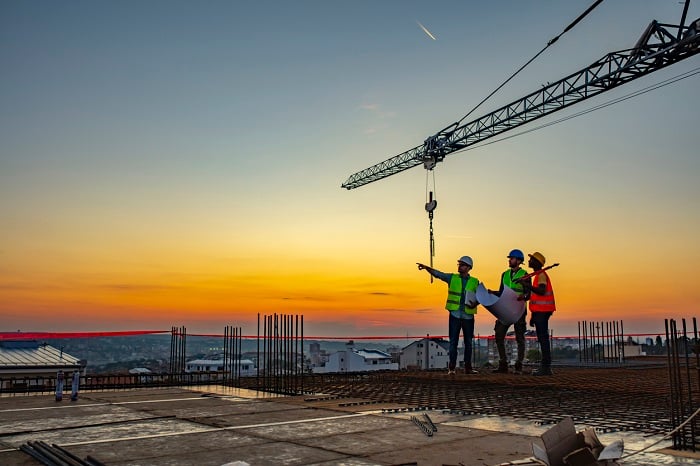 Who is eligible for a CIS mortgage?
CIS is available for self-employed workers in the construction industry. It's not limited to those directly involved in the physical construction of buildings, but also includes a number of sectors connected to the industry (architects, for example).
Through the CIS scheme, an overseeing contracting body, responsible for the management of subcontracted workers, pays tax in advance to HMRC. Mortgage lenders are then able to consider your gross turnover as income, rather than using your self-assessment figures as reported to HMRC as your overall financial figure.
How CIS improves your mortgage chances
There are a number of ways being signed up to CIS benefits you when making a mortgage application.
Higher mortgage ceiling
Mortgage lenders will use your annual income as a baseline for determining the size of your mortgage. Typically, the lender will be looking to provide a mortgage with a maximum size of four times your annual income, while some specialists are willing to look at five times, and a few will even consider six times income mortgages.
Example
Rob is a self-employed plumber. He secures a year-long contract working on a large commercial build. For his work, he will be paid £46,000 over the year through the CIS.
The previous year, Rob actually turned over almost £50,000. However, he worked with his accountant to make the most of his tax allowance and expenses and, with a lot of travelling around and other business expenses, his declared profit to HMRC on his annual self-assessment for tax and national insurance was only £28,600.
If Rob applies for a CIS mortgage, he will have at least £184,000 available to him as a mortgage (£46,000 x 4). If he had applied the year before with his self-assessment tax return to provide proof of income, his buying power would be considerably less at £114,400, even though he turned over £4,000 more that year.
One year of accounts
Most CIS mortgage lenders will look at the gross income for the last twelve months, meaning you do not need the substantial three-years of accounts that traditional mortgage lenders have as a criteria for the self-employed.
In reality, this means being able to secure a mortgage as much as two years earlier than might otherwise have been possible.
Better deals
Being able to show a higher level of income also opens you up to better mortgage rates. It may be that you do not need the full 4x mortgage and are happy to go with a slightly smaller figure, giving you access to a wider range of mortgages, including those with lower interest rates.
Not only that, but any affordability or debt-to-income calculations are going to be far stronger and in your favour that without help from the Construction Industry Scheme.
CIS mortgages and your deposit
A CIS mortgage is simply a standard mortgage where, through CIS, your full turnover is considered, rather than your sole-trader profit; there's nothing different between a CIS mortgage and any other normal mortgage on the market - which is good news when saving for a deposit.
Like those with a strong level of employment history, you will be able to find mortgage deals with deposits as low as 5%, helping you get your home without too much of a struggle.
Remember though, that as your buying power increased through CIS, it will affect the amount you need for a deposit. With the advantage of a larger mortgage comes the disadvantage of more saving!
If you are able to offer a larger deposit, then you will also be able to command better rates for your mortgage. It's a competitive market with many lenders, so if you can show yourself as a good investment with strong financial stability, you will be in a good position when shopping around for the right deal.
Getting a CIS mortgage with bad credit
If you have suffered a period of poor credit, whether that is from a previous IVA or bankruptcy, or simply some missed payments or even a CCJ, then we can help you here at The Mortgage Hut. We have a dedicated bad credit team who can work with you to find a lender to suit - one who is experienced in CIS and bad credit for a perfect match.
We have lots of advice for buyers looking to get a mortgage with a poor credit history. Look to some of our other articles on the topic or call us today for dedicated advice.
How to apply for a CIS mortgage
At The Mortgage Hut we have specialists who are experienced in CIS mortgages. We work with a wide range of mortgage lenders across the UK and will help you find a provider and product to best match your personal circumstances.
Lenders will be looking for at least 12 months of history before considering you for a mortgage, so keep on to your CIS payslips and bank statements!
We provide a pre-evaluation ahead of helping you make a formal application with a lender, and can help you get the all important decision-in-principle, often within a few days.
For more advice, or to get started with your mortgage application, contact The Mortgage Hut without delay. Fill in our contact form or give us a call today!