A standard residential mortgage is easily thought of as a loan that is secured on a property - the house is the central feature and not a lot of thought is given to the ground that the building is situated on!
But what if you are just trying to buy that ground? There are many reasons why you might want to own a patch of land, whether its because you are planning to build your own house or to use as part of an agriculture-based business. The question is:
Can you get a mortgage for land?
There are many variables at play when it comes to obtaining a mortgage for land. They are substantially different to a standard residential mortgage, so will depend entirely on your circumstances.
Borrowing money to buy land involves many of the same checks that exist when looking to get a loan for a standard home, and in the same way you are looking to reassure the lender that you are a low-risk investment for them. The market for land, however, is more specialised than traditional residential lending, so many standard lenders prefer to avoid land finance altogether. This means defining the reason you want to buy the land and approaching a specialised lender who has experience in that area.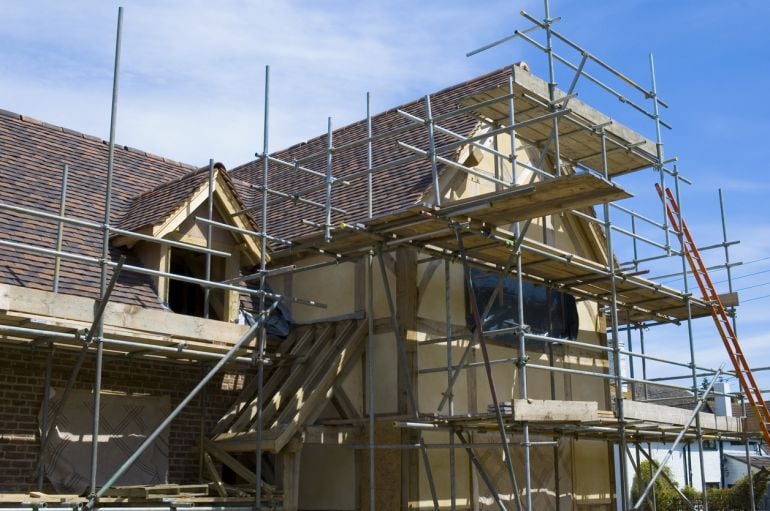 The different types of land mortgages
In the UK, land is designated for a purpose and it is often not easy to apply for the planning permission to make a change - unfortunately for those dreaming of idyllic self-build homes in the wilderness, you cannot simply purchase a large chunk of woodland, cut down some trees in the middle and build a house! Agricultural farmland often must remain for that use and unused residential land is a rare find. Your mortgage will depend a lot on the type of land, your planned usage, and the permission for any changes already having been sought.
Self build mortgage
Most people considering a land purchase for the first time are doing so because they have a wish to build their own house. Without a property already in existence, a standard residential mortgage is impossible - instead, you must turn to the specialist self build mortgage.
A self build mortgage is part land mortgage, part mortgage based on the planned property that forms the project. Unlike a traditional residential mortgage, the money is provided by the lender in stages - one to build the land, and then additional stages to provide cash to purchase building materials and pay for the work to be done.
For more information on self build mortgages, look to our detailed articles.
Agricultural mortgage
It is possible to get a mortgage for agricultural land either as part of a business venture, or with an eye to simply owning land as a future investment.
Many people enjoy the idea of owning a smallholding, where they can work towards being self-sufficient, growing their own food and keeping animals, and agricultural land is perfect for this purpose. Often it can be bought in conjunction with a residential property, or separately to add to an already existing home.
Like all land mortgages, getting an agricultural mortgage will have a lot to do with your plan for the land and the planning permission to use the area in the way you intend.
Woodland mortgages
There are many areas across the UK where a private individual can purchase an area of woodland. While this land will rarely come with permission to make a change, it can be used as a private sanctuary and represent a future investment.
Woodland mortgages follow similar restrictions as other agricultural mortgages.
Commercial development mortgage
Businesses may be looking to purchase land in order to develop it further - this could be for anything from a new area of residential homes to a site for a supermarket.
A commercial development mortgage forms part of a business strategy plan.
Land mortgage criteria
Getting a land mortgage often requires a much greater investment on the part of the applicant than a standard residential mortgage. As with all mortgages, being successful with your application is about being an enticing investment for the lender - either by limiting the risk involved, or increasing the rewards.
Land mortgage interest rates
The interest rates on offer for a land mortgage are typically slightly higher than that for a residential mortgage, but two factors in the current mortgage work in the borrower's favour: an active and competitive market, and low base interest from the Bank of England.
With a properly presented mortgage application, rates as low as 4% are possible for land-only mortgages. At The Mortgage Hut we always work to get you the best possible interest rate on your mortgage - speak to one of our advisors to see what options are currently on offer.
Factors that will affect your land mortgage interest rate include:
- The type of land and your intended use
- Your credit score
- The LTV of the loan
- Any additional guarantees (such utilising your residential home as security)
Land mortgage deposits and loan-to-value
While it is possible to get a residential mortgage with a deposit as low as 5% (representing a 95% LTV mortgage), authorised and regulated lenders are far less willing to offer such high-risk loans to mortgages without an easy-to-sell home attached. The market for land sales is slower and of much greater risk to them.
Most land-based mortgages have a loan-to-value ratio of 70% or less, meaning it will be necessary to raise 30% of the land price as a deposit.
If you are looking to your land mortgage for your primary home (i.e. you don't own another property or are a first time buyer), then that deposit will need to be represented as savings. However, if you currently have a property, even one with a current mortgage, then it is typically possible to leverage the equity on that home to provide an effective deposit on your land purchase.
Remember that doing so would put your home at risk and missing repayments on your mortgage could result in a repossession of both the land and your original home.
Planning permission
When buying land, planning permission, or land use change permission is a significant factor in your lender's criteria. Land without planning permission is considered a more significant risk, and will affect both your mortgage LTV and the rates on offer. Typically, lenders are unwilling to offer more than 65% LTV towards a land purchase that doesn't have previously secured planning permission.
Note that obtaining planning permission doesn't always have to be done by you. Often, land is sold with permission already in place for a building or use change that simply hasn't been utilised by the current owner.
For more advice regarding planning permission, contact us through our contact form to have one of our specialists review your situation.
Business plans
In many cases, a land purchase is part of a planned investment. This is the case for a self build home as much as it is for a commercial purchase, or agricultural farm expansion.
Presenting the lender with thorough documentation that outlines the planned use for the land for the future is likely part of your application, and a strong business plan is more likely to secure the lowest rates and largest LTV deals.
Your affordability and credit history
Your financial situation is always a major consideration when obtaining a mortgage, but can seem more important still when looking for a riskier land mortgage. Expect the lender to perform significant stress testing on your income before agreeing to the loan. Those offering financial services of this type are keen to be reassured that you represent a good customer and so your income, outgoings and debt management history are all key factors.
Buying land and other financing
A large amount of land sold in the UK is done through auction and it is typical that those looking for a land-mortgage are doing so with a view to moving swiftly through their mortgage application. Land bought at auction will require an immediate 10% deposit, and the balance of the transaction paid within 28 days.
For many, this can mean looking towards expensive bridging finance to pay for the land while the mortgage application is in process. It is very important that you speak to a qualified advisor to determine your bridging finance exit strategy before securing other debts to pay for the land.