Struggling to buy a home in Winchester?
With an average house price of £479,605 (Rightmove, well over the average for the UK and over £100,000 more than the average house in the Southeast, it's not surprising that many people struggle when trying to buy their first home, or make their way up the property ladder in Winchester. Unfortunately the high property prices in Winchester often restrict people from purchasing the kind of property they require, however the Government Help to Buy Scheme may be able to help.
Help to Buy - Winchester
The Help to Buy scheme is provided by the Government to enable you purchase your first home or move to a new property. Perhaps paying high rent in the Winchester area is making it hard to save a large enough deposit for your first home or you are unable to raise enough funds for something with sufficient space for your family or close enough to your place of work? If this sounds familiar, the Help to Buy Scheme along with a mortgage from a broker such as The Mortgage Hut could help you purchase a home in Winchester or the surrounding area.
The Government offers several different Help to Buy Schemes including the Equity Loan and Mortgage Guarantee.
Help to Buy: Equity Loan
The Help to Buy Equity Loan scheme can help first time buyers or existing homeowners buy a new build property with just a 5% deposit. The Government lend you up to 20% of the property's value, you provide a 5% deposit and then the remaining 75% is covered by a mortgage. You do not have to pay interest on the loan for the first 5 years. An example is shown below:
Source: HM Government: Help to Buy
Help to Buy Equity Loan Scheme Mortgages
If you use the Government's Help to Buy Equity Loan scheme to purchase a property, you will need a mortgage to cover the remaining 75% of the property price. You will have the choice of many lenders, and with a good 25% deposit, it is possible to get a very competitive deal. The Mortgage Hut are a mortgage broker - we can search the thousands of deals available to find the perfect one for you.
The Mortgage Guarantee Scheme
The Mortgage Guarantee Scheme is a Government backed mortgage which aims to encourage lenders to provide mortgages with smaller deposits. This scheme is suitable for first time buyers or current homeowners purchasing a new build or older home up to the value of £600,000. An example is shown below: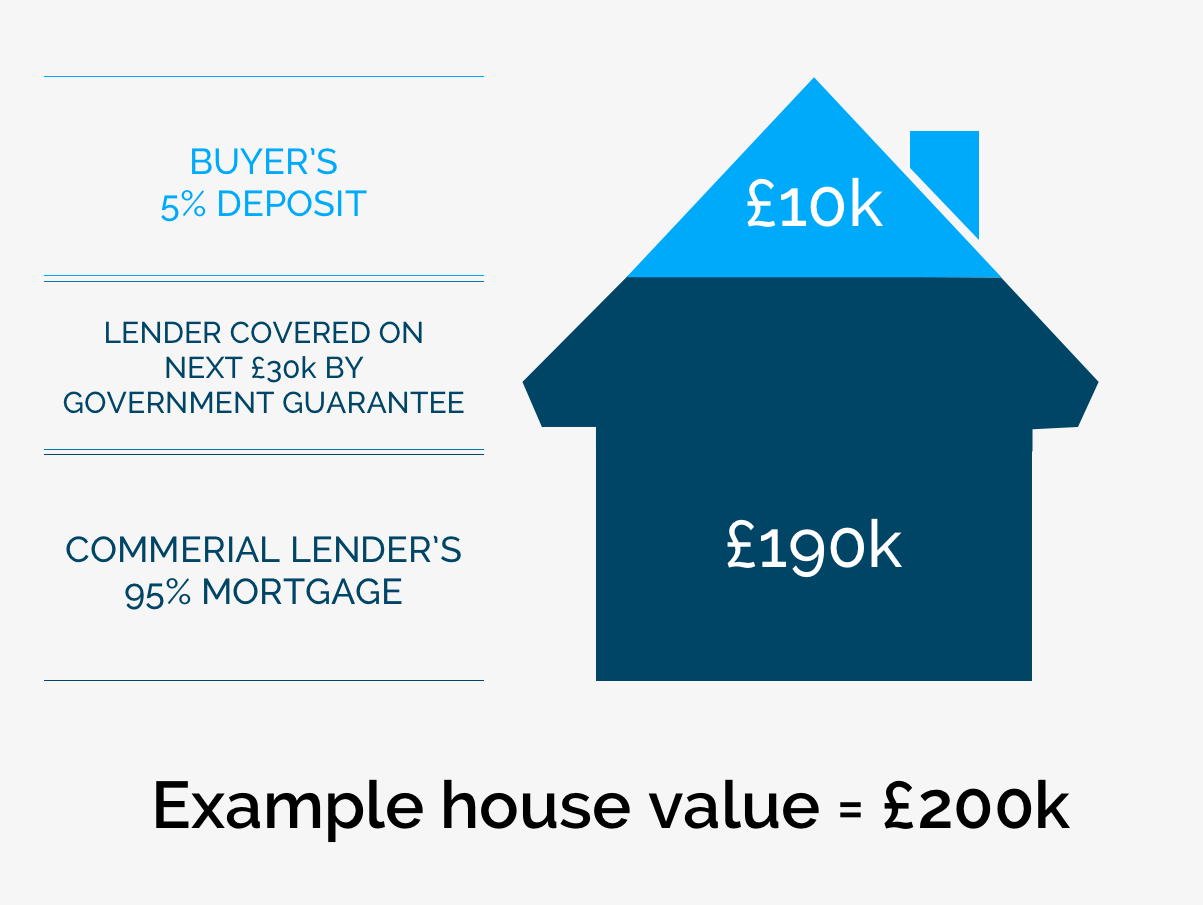 Source: HM Government: Help to Buy
Mortgage Guarantee Scheme Mortgages
Many lenders take part in the Government's Mortgage Guarantee scheme, however when searching for a 95% mortgage, you are likely to find much higher than average interest rates and fees. It is therefore particularly important that you shop around for the best mortgage deal to keep your monthly payments to a minimum. Mortgage brokers like The Mortgage Hut can do the hard work for you - one of our professional advisors can will find the most suitable mortgage from the wide range available to suit your needs.
Winchester Help to Buy Mortgages from The Mortgage Hut
Whether you are searching for the right mortgage for a Help to Buy property or are simply interested in finding more about whether you are eligible for the Government backed scheme, contact the The Mortgage Hut for all the help and advice you'll need. You will find our Winchester office at Black Swan Buildings in Southgate Street - pop in or give us a call to make an appointment.
In addition to Winchester, The Mortgage Hut have branches located throughout the South in Southampton, Eastleigh, Basingstoke, Andover, Newbury and London. To find out where we are or make an appointment with a local adviser, contact The Mortgage Hut here.
You can search for available Help to Buy properties in the South here: http://www.helptobuysouth.co.uk/
Sources:
Rightmove: House Prices in South East
Rightmove House Prices in Winchester
Help to Buy