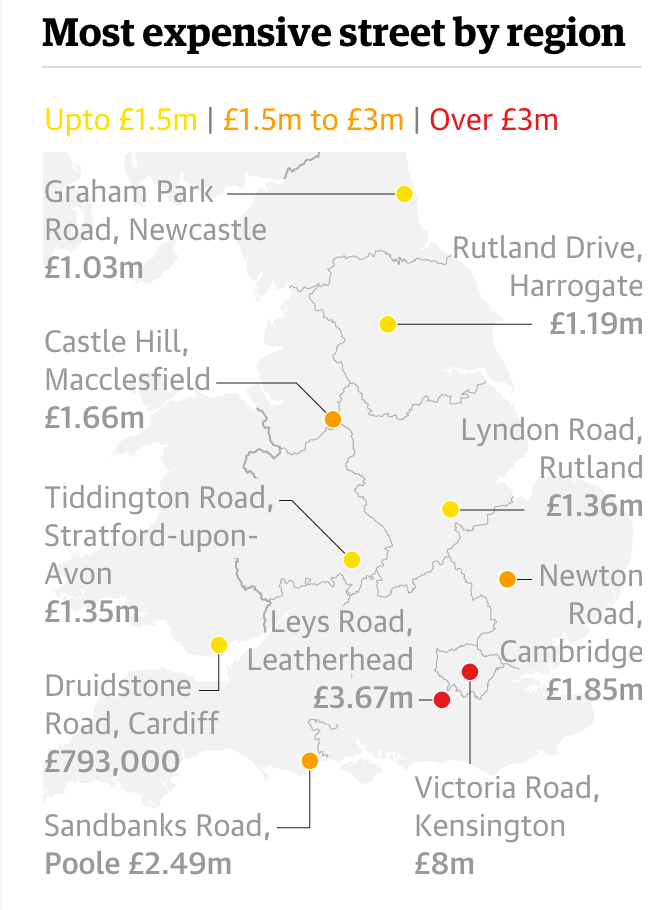 Graphic: The Guardian
Interested in finding out the most expensive streets to live on in England and Wales? Based on Land Registry records of transactions between January 2010 and October 2015, Lloyds Banking Group have produced a list of the 50 most expensive residential streets in England and Wales.

Unsurprisingly the majority of the top ten are located in Kensington and Chelsea with Victoria Road (where you can be neighbours with the Queen in Buckingham Palace!) coming in at the number one spot with an average transaction price of £8.01m.
But it isn't only London addresses that feature in the list with Leys Road in Leatherhead coming in at 20th place overall and most expensive in the South East (£3.78m) and Sandbanks Road in Poole (£2.49m) featuring at 32nd overall and the most expensive road in the South West. The most expensive street in Wales was Druidstone Road in Cardiff with an average transaction price of £793,000.
To see the full list, take a look here:
http://www.theguardian.com/money/2015/dec/11/victoria-road-in-kensington-is-most-expensive-street-in-england-and-wales
Please be aware that by clicking on to the above links you are leaving The Mortgage Hut website. Please note that The Mortgage Hut is not responsible for the accuracy of the information contained within the linked site(s) accessible from this page.
Whether you're looking to purchase a home in one of the most expensive streets in the country or something a little more modest, why not let The Mortgage Hut take care of your mortgage and help you purchase your perfect place?