A little help from the Help To Buy scheme
We all need a little help sometimes. Whether you're a first-time buyer or looking to move house - it can be hard to save up a large deposit. Thankfully, the Government Help To Buy scheme has been created to help people like yourselves. The current scheme is more flexible than ever, open to movers as well as first time buyers, those looking to buy a new or current house and can help you purchase a property of up to £600,000 in value with just a 5% deposit.
How could it help you?
Do you need something a little bigger? Perhaps your family's growing, or you need extra space for a hobby or work? The Help to Buy scheme could enable you to trade up to a larger property despite having limited equity in your current home.
Perhaps you're taking your first step on the ladder and are struggling to raise enough deposit to get your first place? Help to Buy could assist you to invest in property sooner than you think or make a longer term purchase to prevent having to move soon again in the future.
Maybe it's location that's holding you back. It's lovely to be close to friends, family and work but perhaps the area is costly and you need a little help?
Help to buy: Mortgage guarantee
The government's mortgage guarantee scheme works much like a normal mortgage. The only difference being that your mortgage lender is given the option to purchase a mortgage guarantee on the mortgage loan from the Government. This allows the lenders to offer more high loan to value mortgages. This could enable you to purchase a property with as a little as 5% deposit. See the illustration below based on a property price of £200,000: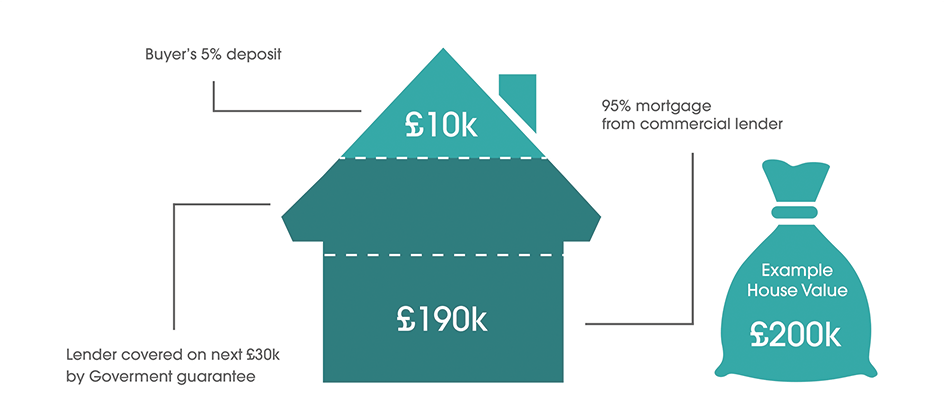 Source: http://www.helptobuy.gov.uk/
Remember, you are still responsible for the remaining 95% of the property and will pay your mortgage payments in the normal way. There are also some restrictions to the type of mortgage you can take out such as it must be a repayment mortgage and be no more than 4.5 times your income.
Mortgage Guarantee Scheme - grab it while it lasts!
As with all government schemes, this offer will not be available forever and is currently due to end in December 2016. This may seem a long way off but with your perfect property to find, it's a good idea to move fast so as not to miss out. Not all mortgage providers take part in the scheme so contact our friendly team of experts at The Mortgage Hut to find out more about what mortgages are available along with further details about the scheme.